Trevor Jang talks to Stephen Lytton, a recipient of the Governor General's Caring Canadian Award
Stephen George Lytton is an Aboriginal activist, writer and actor who is one of the latest Canadians to receive the Governor General's Caring Canadian Award.
"I'm honored to be recognized by my peers to receive one of the highest awards given to any citizen," Lytton said.
The award is given out each year by Governor General David Johnston and recognizes individuals who volunteer their time to help others and to build a smarter and more caring nation.
"When I stood beside the Governor General it became a reality. I know that I received the nomination, but until being involved with a number of other Canadians that have received the award and recognition I feel the greatness and the honour of being a Canadian."
An elder from the Nlaka'pamux First Nation in British Columbia, Lytton is the president of the BC Aboriginal Network on Disability Society where he volunteers his time to fight for more opportunities and inclusion for Indigenous people who live with disability.
"A lot of the volunteers, we want to be in the background and give those we serve a hand up. But it's also nice to be recognized by your peers and those in your community," he said.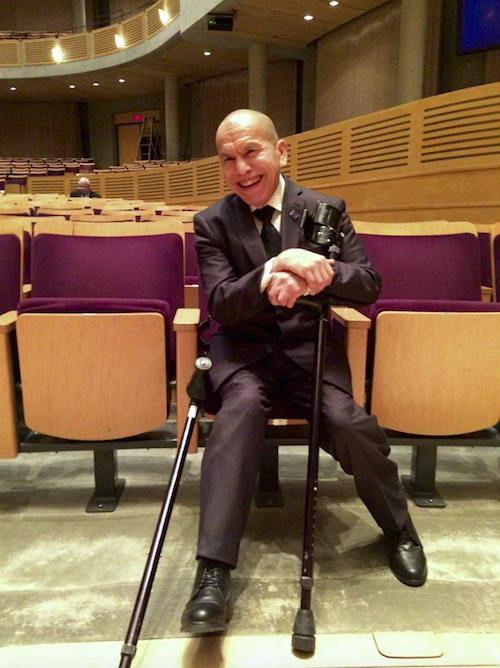 Lytton himself lives with cerebral palsy. He is also a residential school survivor having spent 13 years in the St. George's Indian Residential School starting when he was a young child. He says it was tough, but today Lytton is an accomplished actor, writer and presenter who shares his experiences growing up with a disability as well as surviving residential school.
"I love people. It's not about race. You either want to be part of the problem or part of the solution. And I want to be part of the solution. It's about building that bridge together."
After receiving the honour from Johnston at a special ceremony held in Vancouver, Lytton reflected on how he's managed to overcome so many challenges and barriers.
"I really received a lot of my passion from my mother. She's a single mother and is 96 years old. She's the driver and the cornerstone of who I am and has helped me become who I am today. I recognize that a lot of women have played a role in my life and give me a hand up. They've helped develop my character."
He also thanked his community for nominating him for the award.
"I'm honoured that I've been able to serve my community. We've come a long way but we have a long way to go."
"I can only hope to continue and be inspired by this award to continue on the work that David Johnston represents. Being involved in this day has been monumental. Not only for me, but for everyone who continues to move our country forward."
Trevor Jang is a reporter for Roundhouse Radio in Vancouver.