Executive director Candice Lys talks to us about what FOXY's been up to and some exciting things in the organization's future
Arctic FOXY (Fostering Open eXpression among Youth) has been offering sex ed workshops to young women in the Northwest Territories since 2012. FOXY is a new way of looking at and talking with youth about sexuality, health and relationships and the work of members of the FOXY team hasn't gone unnoticed. The group won the Arctic Inspiration Prize in 2014 for their vital work and have been able to expand to the Yukon and Nunavut since then.
We spoke to FOXY's executive director Candice Lys about what the organization has been up to recently, what she's learned in the years since its birth and what's in store for FOXY in the future.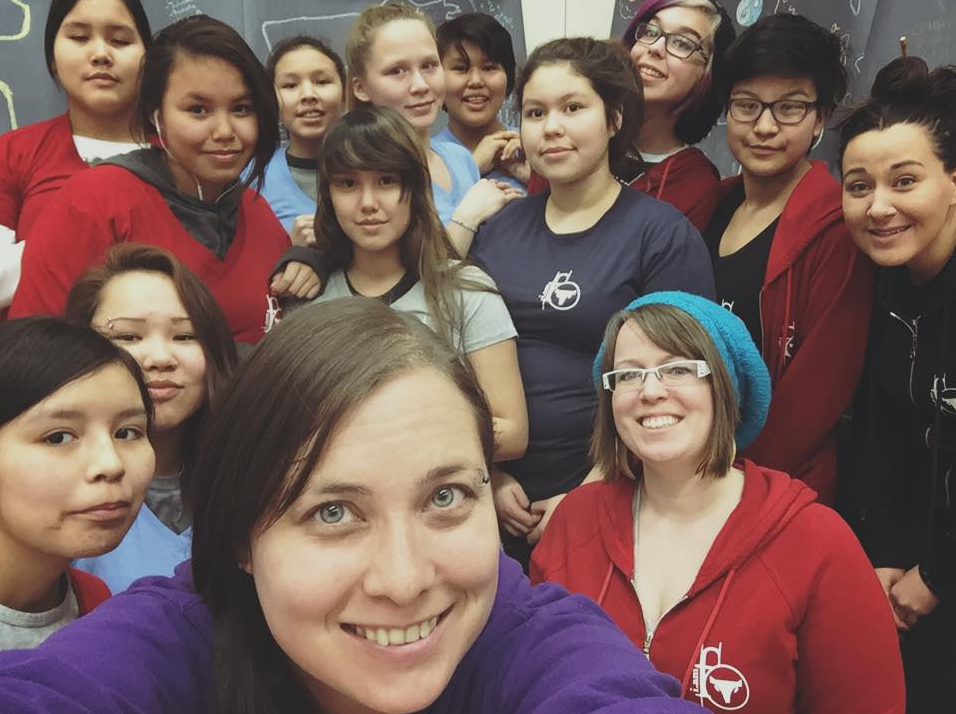 Why was it important to establish FOXY and lead workshops/retreats for youth focusing on sexuality and sexual health?
I did my Master's thesis research talking with young women all over the N.W.T. about what their experiences were with sexual health education, and what their ideal sex ed looked like. Again and again, they told me that they wanted sex ed that was fun, interesting, not like regular school classes, focused on the whole picture of sexual health (rather than learning how to spell gonnorhea—which I still can't spell!), and taught by people they could actually relate to.
When I started my PhD, I wanted to do a project that would be all of these things to make sure that the needs of Northern and Indigenous youth were being met. So, in 2012, FOXY was born—and we decided to use the arts to focus on issues that were really important for Northern youth, including holistic teachings about sexual health, relationships and making realistic decisions about life.
FOXY won the Arctic Inspiration Prize in 2014. What's changed for the organization since then? What has the $1 million prize allowed you to do?
The Arctic Inspiration Prize has been such an incredible gift for FOXY and we are so grateful. The AIP has allowed us to expand our reach for FOXY into the Yukon and Nunavut and to include many more young women in the N.W.T., and to create a parallel program for young men that is currently unnamed (but will have a name very soon). We are super excited for the men's program, and look forward to our first pilot Retreat with them in July this year, and school workshops in the fall!
Taking just a quick look at the FOXY Twitter account is almost dizzying. You seem to always be travelling! What have you been up to lately?
Right now, we are actually in our "quiet" period getting ready for the FOXY for men's Think Tank on May 6 and 7, where we will develop the structure of the men's program, so we haven't traveled in a whole three weeks! This fall/winter we had the pleasure of offering 32 workshops in 20 schools in 18 of our N.W.T. communities, which is so awesome. We also recently wrapped up a tour in five rural communities in the Yukon, and our next trip is to visit 4 Whitehorse schools!
Are youth you meet open and receptive to a different kind of sex ed?
FOXY is all about providing youth with accurate, realistic, holistic sexual health information so that everyone has access to the tools to make the best decisions for themselves. We all come from diverse backgrounds, experiences and have different life situations—and we know ourselves the best, so FOXY isn't about telling anyone what to do or how to do it. The youth that we work with are awesome and have been really open to being part of our FOXY family.
What have you learned from the teens you've met?
I think too often young people get unfairly written off by adults without being given a chance.
Our youth are smart, literal and full of fire. They'll tell you how it is, and come up with great solutions to problems that I never would have thought of. Some of my most favourite moments over the last while have been long drives between Northern communities with our FOXY Peer Leaders where we get to talk about life and everything else—and they open my eyes to a completely different way of thinking. I honestly don't know why everyone doesn't want to hang out with teenagers, their perspectives are so refreshing.
Do you see any movement or changes in the way schools across the country teach sexual education? Are there places—or provinces?—that are teaching culturally sensitive, realistic and actually useful sex ed?
There is a lot of great work being done on the front-line by passionate individuals and organizations who realize the benefits of culturally appropriate and realistic sex ed. Together, I think we're all making slow but steady progress towards a healthier Canada.
What are some of the next steps for FOXY?
At the beginning of May, we are holding a Think Tank to bring together Northern youth, parents, educators, community leaders, health providers and other interested Northern men to develop the meat and bones of the FOXY for Men program. The name for the program will also come from sessions, and from there we will hit the ground running on planning for our summer programming!
To find out more about FOXY, head on over to arcticfoxy.com.