Jade Harper, founder of Winnipeg's SpiritFusion, spoke to New Journeys about her yoga journey
Through her work with SpiritFusion Jade Harper is bringing yoga and traditional Anishinaabe and Cree practices together, and to others on their own journeys of healing.
Harper—who founded SpiritFusion, a company that focuses on wellness and healing and offers yoga classes, workshops and retreats, in 2015—had never thought of practicing yoga until she was in her mid-twenties; she just didn't think it was for her. But she joined her sister in a hot yoga class not too long after a miscarriage at 25 that had led to serious depression, and immediately got hooked on the heat.
"[In] my first class, I think I cried the entire time. It felt really emotional, in my body and breathing with movement," Harper said. "And then sweating at the same time, there seems to be a lot of healing in it."
The heat reminded Harper of her first sweat lodge ceremony at the age of seven. Her dad was long gone, her family was living in poverty, her mom decided to stop drinking and started going to ceremony. She said she felt a sense of connection in the sweat lodge, something she'd never really felt before.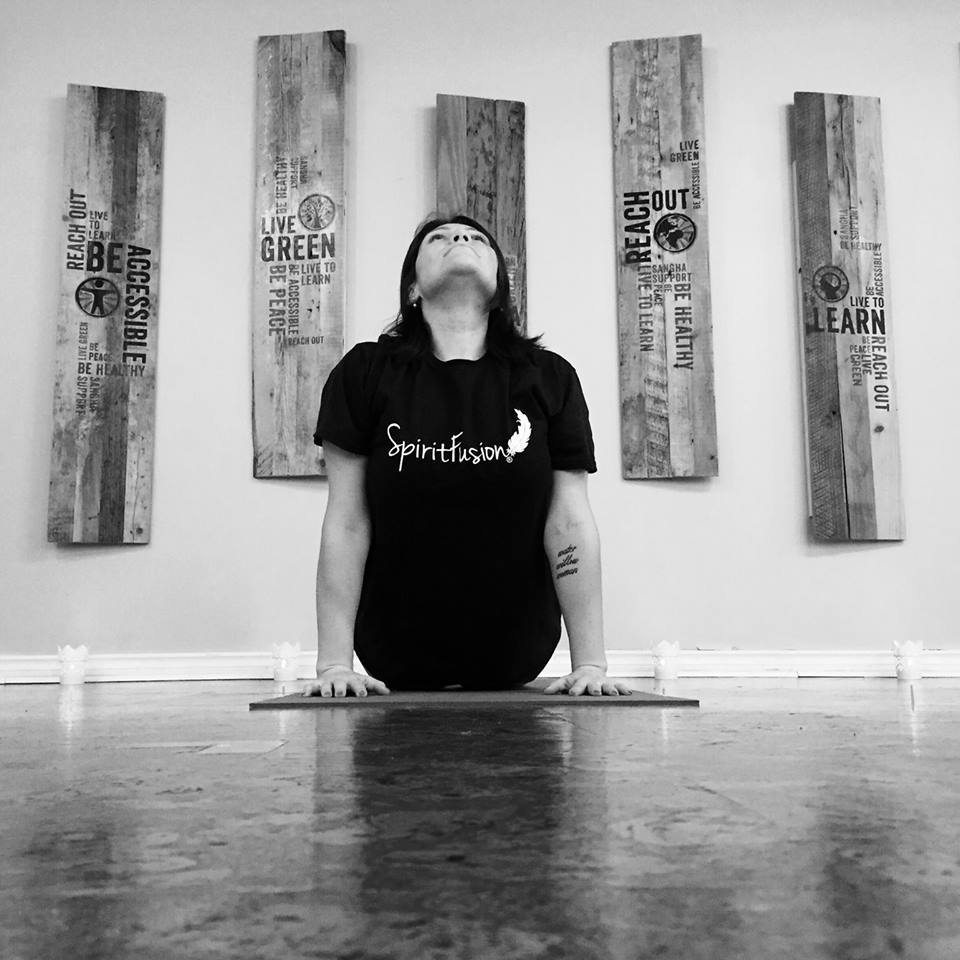 SpiritFusion/Facebook
Harper started to think more about those connections—"heat, healing, interior sense of connection to your own body"—and how great it would be to have a drum in the room during a yoga class. She talked to her sister and some friends about the idea, and interest grew. Soon she'd organized a five week series at Moksha Yoga in Winnipeg.
"The interest grew so much that I had to stop promoting it. I was trying to figure out what was going on, I didn't know what to do with all the people who were interested," she said.
Harper had some self exploration to do, too, about how the ancient practice of yoga—an important cultural practice from India that, to be frank, has been appropriated by the western world—could be combined with her own Indigenous traditions in a respectful way to help herself and others.
"I don't have 30 years as a yogi. I'm not an Elder. So I kind of embarked on my own journey trying to figure out where do I fit into all of that," Harper said.
"I find it's a bit of a new movement as we engage people who are not Indigenous in the Indigenous culture… and use the practice for their own healing," she added. "And then for Indigenous people who also want to explore their culture a bit more, for the same reason that I'm doing it."
A typical SpiritFusion class starts off with a smudge with medicines Harper picks herself, and includes an opening meditation, yoga poses and the drum played by Harper's cousin Kristy. Sometimes Elders join the class to give teachings while participants are in savasana, the final relaxation pose. Classes are 50 minutes to an hour.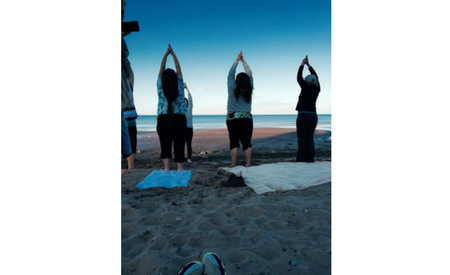 SpiritFusion/Facebook
SpiritFusion will be expanding soon into half days workshops, where participants can engage in more storytelling than what's possible in a regular yoga class. Harper said they'll also be going deeper into how the practice can be positive for mental health and wellness.
"What I've learned on this journey so far is to be kind with myself. I've learned my whole life to be kind to others, which is important," Harper said. But not so much compassion towards the self. Women, especially Indigenous women, can be their harshest critic, she said.
"SpiritFusion has taught me that that takes time. It actually takes so much time and energy to be hard on yourself," Harper added. "So when you're kind to yourself you're able to accomplish so much more, you're able to welcome things into your life so much better."
To learn more, visit SpiritFusion's website here.