By Trevor Jang
There's a new fashion line that uses traditional First Nations Raven and Eagle designs and gives them a modern twist.
Ravens, Eagles and Polka Dots: A Reg Davidson/Dahlia Drive Collaboration is an elegant line of see-through blouses and dresses for women of all ages and sizes.
"Contemporary is what people would call it, but for me it still felt really traditional," said Linnea Dick, one of the First Nations models to unveil the line in Vancouver.
"The fact that the clothes are not form fitting and really loose felt really close to the cultural regalia I already wear," she said.
The Raven and Eagle are the two clans of the Haida Nation, with crest origin stories that connect the Haida people to the time of their ancestors. Linnea says she felt as comfortable on the runway as she does in a ceremony, thanks to the significance of the cultural designs.
"It's really important to have not just our designs and our art work but our culture out there. Because I think that a lot of the lessons that are behind our designs, and the legends where those designs are derived from, teach us things about morals that aren't readily given to us in today's society."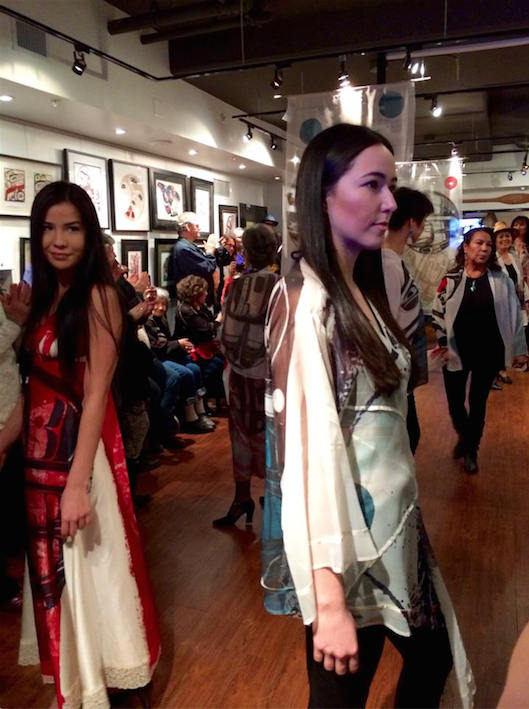 Eco-conscious fashion designer and founder of Dahlia Drive, Wendy Van Riesen, used recycled curtain sheers and slips to create the garments, which are based on Reg Davidson's Raven Dancing silkscreen and Eagle Drum painting.
"That's a privilege for sure and it's something I was pretty nervous about," Van Riesen admitted.
"There's a real regime to the form and the way the form is used and the storytelling of the Haida people," she said. "I'm just thankful that he was willing to see that I was going to keep the integrity of the designs, but put a little spin on them."
Davidson, whose 40-year artistic career has spanned the realms of masks, sculptures, paintings, gold jewelry and traditional regalia, agreed that the collaboration was a great fit.
"A lot of the designs I've done were for drums and prints and stuff. The odd time I've done a t-shirt, but t-shirts are t-shirts. What she's doing here is fashion. This is women's clothing and it's very elegant. You can wear this to a 5-star restaurant."
As for Linnea, who is new to modelling, she has a message for young First Nations women.
"I think the most important thing I can say is to love yourself. As a child I went through a lot of trauma and I grew up being really insecure. Just live with confidence and that's the first step towards loving yourself."
Check out the Ravens, Eagles and Polka Dots: A Reg Davidson/Dahlia Drive Collaboration here.
Trevor Jang is a reporter for Roundhouse Radio in Vancouver.