By Trevor Jang
What is reconciliation, how do we get there and what can we commit to as individuals towards it?
These are the questions that Anishinaabe comedian Ryan McMahon is travelling across the country trying to answer.
Ryan has dedicated season 5 of his popular podcast Red Man Laughing to examining reconciliation between Indigenous people and the rest of Canada.
"I think we're all just taking that first step and I use this analogy: Imagine a concert with a big line up out the front door. Nobody's in the stadium yet. And [there's] that energy that exists in the lineup from people waiting to go in the show. That's I think what's happening now with reconciliation," he said.
"Everybody's standing in line and no one is sure of what to expect. But it's going to take somebody to walk in that door first and open the floodgates."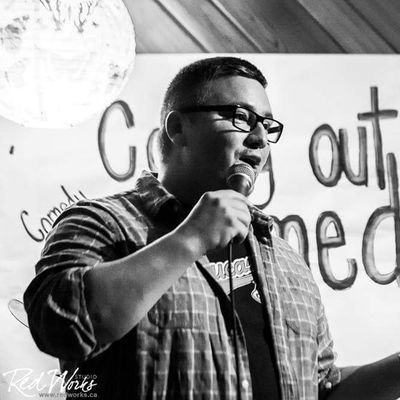 I caught up with Ryan while he was leading a reconciliation-themed workshop in Vancouver. About one hundred people young and old and Indigenous and non-Indigenous participated in a multi-generational conversation about reconciliation.
"It's very important that we go slowly, that we listen to Indigenous people, the needs of our communities, the needs of our survivors and we let youth lead it," Ryan stressed.
"Youth are burdened with this. For the rest of their lives they'll be working on reconciliation and that was not the same for me when I was a young person," he said. "There was no such thing as reconciliation. So we really have to centre youth voices and we're just starting that now. So it's exciting."
Ryan also sang traditional songs and told traditional stories, something he added is vital to strengthening Indigenous culture, pride and identity in his audience, particularly in youth.
"I told the story of the Ojibwa people and the blueberry and the promise that we made to the Creator about taking care of our medicines. Why I told that story is because it talks about Indigenous governance, Indigenous laws and our original instructions as Ojibwa people."
Ryan said the revitalization of Indigenous wisdom, culture and laws, and therefore the empowerment of Indigenous people, would help address many of society's challenges such as climate change and economic inequality.
"We all have our own original instructions. And whatever those are, we have to remember them, we have to investigate those and see how they pertain to contemporary life today."