By Trevor Jang
The Seriousness of Play by Haida artist Michael Nicolle Yahgulanaas offers a playful way of exploring multiculturalism and engaging with social issues.
The exhibit is a mix of Haida art and Japanese manga, with five-foot murals that are actually comic books, upside down canoes and pieces that are rotational and invite you to turn them around.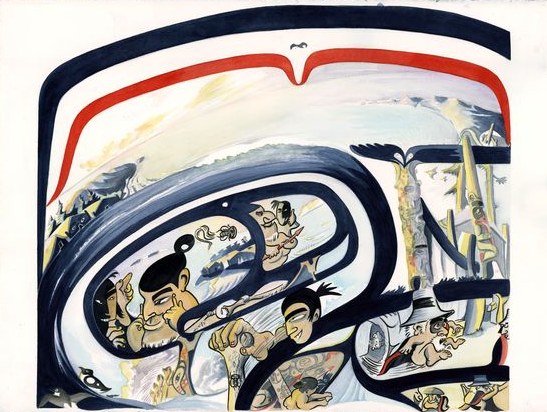 "All the works that are presented here appear at one way to be a very serious piece of work. I mean they're properly framed, properly displayed, they convey all the elements of formality in a gallery space. But I think all the works also welcome you to peel back a layer and say 'oh just wait a minute somebody's having some fun here,'" Yahgulanaas said.
"It's all about finding and welcoming people to integrate with art work. Not to be afraid of it, but to move into it and claim authority and a relationship."
Yahgulanaas says there are many cultural similarities and a shared history between indigenous people and eastern parts of Asia.
"Many years ago when it was an even more difficult time to be an Indigenous person, Haidas from Massett and from my family used to work on the ships and cross over to a port in Hokkaido. And they would come back with these wonderful stories about how welcomed they were."
The exhibit is open at the Bill Reid Gallery of Northwest Coast Art in downtown Vancouver until October and Yahgulanaas says it's an honour to be a part of Reid's legacy.
"Bill was a friend and I've always been impressed with his ability to move so fluidly between the western world while retaining his sense of Haida identity," Yahgulanaas said.
"This is my first solo show in Vancouver in many years. Many things have changed since my last one. My first show here was as an 'Emerging Artist.' I feel quite established in my practice now. So it was kind of a way to express to the city, and to Bill, a journey that was travelled together."
You can see more of Michael Nicolle Yahgulanaas's work on his website here.
Trevor Jang is a reporter for Roundhouse Radio in Vancouver