This year, the rookie candidate became the first Indigenous woman to serve as an MLA in British Columbia
Politics never interested Dirk Thick.
He had never voted and certainly didn't think he would to start at 90 years old. Overzealous candidates mill through his retirement home in British Columbia's Vancouver-Mount Pleasant riding.
Thick listens to each with a gruff expression on his face and greets each one with a prickly demeanour. To him, they're the same as door-to-door salesmen.
"I'm not buying what you're selling," he says to rookie candidate Melanie Mark, before she can even get a word out.
Taken aback, Mark isn't sure what to do. Her first foray into provincial politics is already shaping up to be an intense experience. Strangers grill her on a daily basis and the personal stories she's heard on the campaign trail have a engulfed her into a whirlwind of emotions.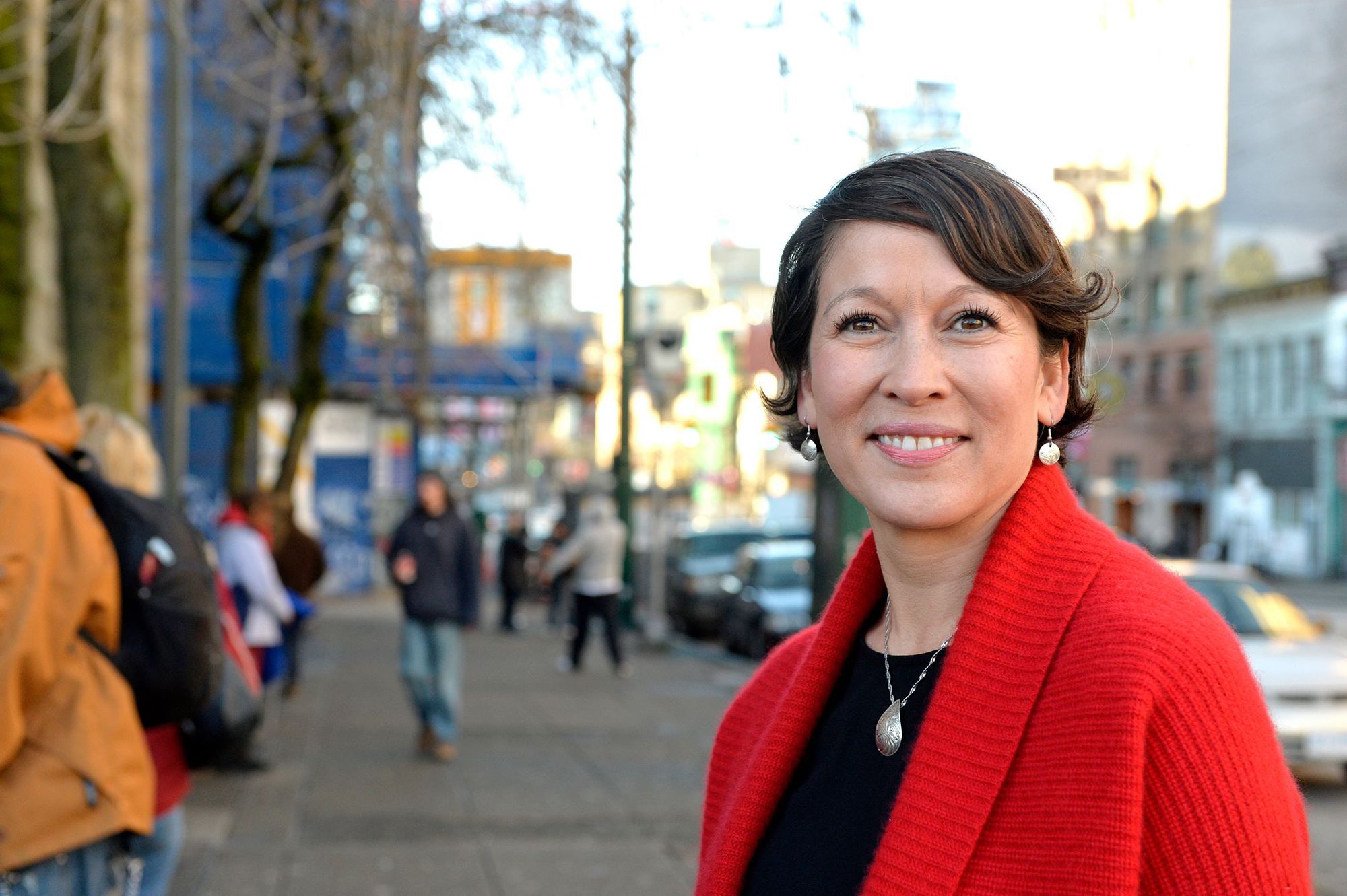 Mark simply extends her hand to Thick and introduces herself, before politely moving on to the next room.
As she leaves the room, Thick mulls over her name. He's heard it before. He quickly scans the paper he skimmed earlier in the morning and found a profile on Mark. He sinks in his seat.
Mark had faced more hardships by the age of five than most people will encounter in a lifetime. Her father deserted her family. Her mother, who suffered from alcoholism, beat her. Her babysitter sexually assaulted her. She's now a single mother.
Her life hasn't been easy and it strikes a chord with Thick.
He looks up and sees Mark about to leave the retirement home. He leaps to his feet, catches her in the foyer and commits to something he's never done his life.
He promises to vote for her.
Mark looks back at that day as a highlight of what turned out to be a successful campaign. She ended up winning Vancouver-Mount Pleasant by a landslide in the by-election on February 2, and became the first Indigenous woman to ever serve in B.C.'s legislature.
"I think I resonated with people not only because I'm Aboriginal, but also because of my personal story and because I'm from East Van. A lot of people could relate to me on some level," Mark says. "I never ran before on this level. It was an exhilarating, intense experience… hearing everyone's challenges and aspirations."
Mark's life experience influenced her platform, which includes strategies to reduce poverty, develop affordable housing and create policies that balance protecting the environment and improving the province's economy. Stories she heard on the campaign trail only motivated her more to fix a system she sees as broken.
"I met with one women in a wheelchair. She was stabbed in East-Van and all she could say was 'I wish I'd been hit by a car' because then she would have been covered by ICBC. I was shocked how the system let this woman down," she says. "I was seeing little action… I want to change that... the legislature needs to broaden its perspective and broaden the debate to be representative of the entire population"
But she doesn't have a lot time. For the next few months, Mark will be keeping her ear to the ground, learning the ins and outs of being an MLA, before she has to campaign all over again in 2017 in B.C.'s next general election, where she'll aim to inspire more voters like Dirk Thick.