"Here we are at last, a long way from Haida Gwaii, not too sure where we are or where we're going, still squabbling and vying for position in the boat, but somehow managing to appear to be heading in some direction; at least the paddles are together, and the man in the middle seems to have some vision of what is to come."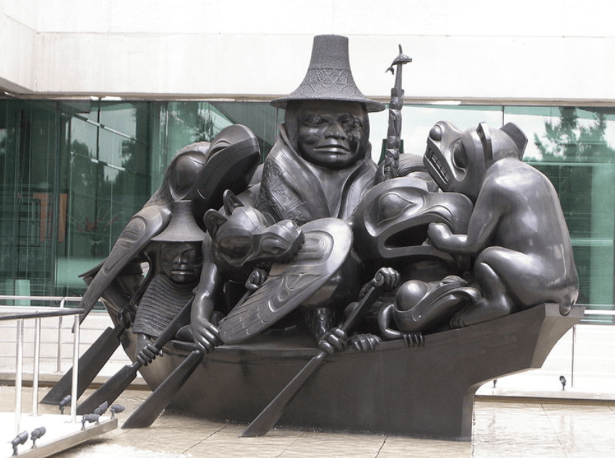 In 1996, Bill Reid's The Spirit of Haida Gwaii traveled across the country on Canada Post-issued stamps. Then starting on September 29, 2004, Canadians carried around the piece in their pockets for nearly a decade on the twenty dollar bill.
The Spirit of Haida Gwaii was originally created out of clay. In 1991, the model was cast in bronze and displayed at the Canadian embassy in Washington. A second bronze cast is exhibited at the Vancouver International Airport in the International Terminal to welcome visitors to Canada.
Bill Reid's works are displayed prominently across British Columbia at the Vancouver Airport, the University of British Columbia, the Vancouver Aquarium and in notable locations in Canada's capital, but his renown is not limited to his artistic accomplishments. Reid used his fame to champion Haida land claims and to protest the detrimental logging of Gwaii Hanaas in the southernmost Haida Gwaii. His half-Haida, half-European heritage also placed him in a strategic place of being able to improve cooperation between First Nations and white settlers.
Reid's work is also notable due to the attention he has brought to First Nations art through spaces that are not traditionally Aboriginal, and because he helped inspire the Haida people to reclaim their heritage that had been so diminished by white settlers.
"There is certainly no lack of activity in our little boat, but is there any purpose? Is the tall figure who may or may not be the Spirit of Haida Gwaii leading us, for we are all in the same boat, to a sheltered beach beyond the rim of the world as he seems to be or is he lost in a dream of his own dreaming? The boat moves on, forever anchored in the same place."