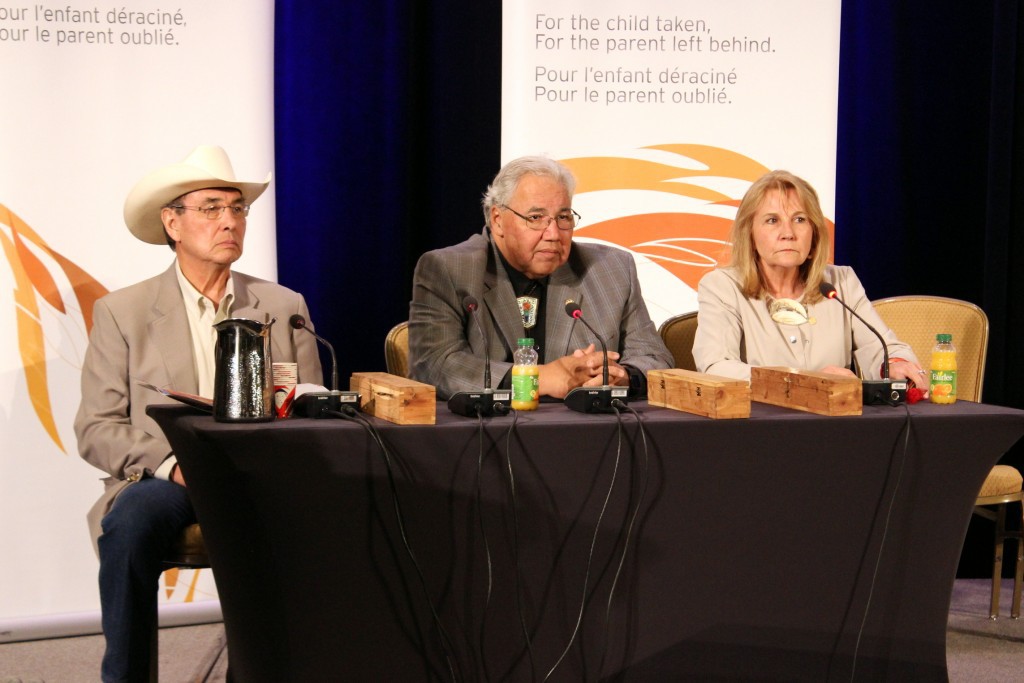 On June 9, 2009, Murray Sinclair was appointed the Chairperson of the Truth and Reconciliation Commission. On the same day Marie Wilson and Wilton Littlechild were appointed commissioners of the TRC.
Their appointments came after the resignation of the original chairperson in 2008. Harry LaForme, an Ontario Court of Appeal judge, resigned citing huge differences between himself and the two commissioners, Claudette Dumont-Smith and Jane Brewin Morley.
Sinclair, from Selkirk, Manitoba, has had a long career in Canada's legal system and advocating for the rights of Aboriginal people. He was appointed Associate Chief Judge of the of the Provincial Court of Manitoba, to the Court of Queen's Bench of Manitoba and as Co-Commissioner of Manitoba's Aboriginal Justice Inquiry. Murray Sinclair was recently appointed to the Canadian Senate.
Wilson is an educator, award-winning journalist and regional executive in the public broadcast and public service sectors, with a wide breadth of experience working with Aboriginal, church and political organizations. Wilson also has a personal knowledge of the residential school legacy through family and community ties.
Littlechild is from Maskawacis Cree Territory of Treaty No. 6. He is a former residential school student, was the first Treaty First Nations person to receive a law degree from the University of Alberta and organized a coalition of Indigenous Nations that sought and gained consultative status with the Economic and Social Council of the United Nations.
The Truth and Reconciliation Commission's mandate was to uncover what happened in the residential school system and inform Canadians of the effects the system had on survivors, their families and communities. The commission completed its work by June 2, 2015, with 94 important calls to action as steps to reach reconciliation in Canada, and released a final report the following December.