Artist Leah Dorion explains the details of her Métis New Journeys logo
Leah Dorion is the artist behind the Métis New Journeys design. Dorion is a self-taught interdisciplinary Métis artist raised in Prince Albert, Saskatchewan. A teacher, painter, filmmaker and published writer, Dorion views her Métis heritage as providing her with a unique bridge for knowledge between all people. She holds a Bachelor of Education, Bachelor of Arts and Master of Arts degree and has numerous creative projects to her credit, including academic papers for the Royal Commission of Aboriginal Peoples, books for children, gallery showings of her art and many video documentaries that showcase Métis culture and history.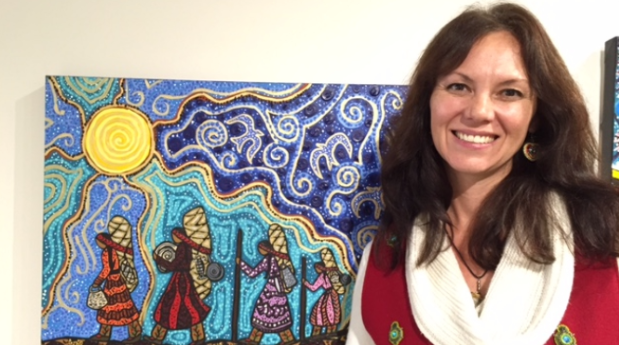 Dorion incorporated many symbolic elements of Métis culture into the New Journeys flower: "This logo celebrates our Métis connection to the land. Our cart symbol is in the centre because it was one important transport method that carried us throughout our homelands. The buffalo tracks in the four flower petals honour the mobility of the buffalo who were our role models for living on the land. We Métis were and continue to be as mobile as our buffalo relatives. The Sash symbol around the edges tells the story of the diversity and unity within the Métis people across Canada. I used rich earth tones in the color choices to remember our deep cultural land connection."

Dorion is currently working on art commission work for the Wabano Centre for Aboriginal Health in Ottawa and the Canadian Museum for Human Rights in Winnipeg, while also illustrating a children's book to be published by the Gabriel Dumont Institute in Saskatoon.
Dorion recently had several art works on display at the Station Arts Centre in Rosthern, Saskatchewan.
New Journeys now has seven different themes that feature Indigenous artists and languages from across Canada. These themes aim to showcase and celebrate the diversity of Indigenous culture in this country. To explore the different themes, click the flower button at the top right of this page.