Kevin Wesaquate, from the Piapot First Nation, created the Plains Cree New Journeys design
Kevin Wesaquate is the artist behind the Plains Cree New Journeys theme. Wesaquate is originally from the Piapot First Nation and currently lives in Saskatoon. He is a proud father of three children who creates art with a variety of media, including spoken and written word, film, paint and theatre.
As a spoken word artist, Wesaquate has participated in events like Tonight It's Poetry and Write Out Loud in Saskatoon. Wesaquate is currently employed as the Aboriginal Arts Leader at Saskatoon Community Youth Arts Programming where he started a writing group called the Indigenous Poetry Society. Over the past two years, he was the artist/writer-in-residence at Saskatoon Polytechnic Campus for Basic Education students. Wesaquate also recently finished a CARFAC Mentorship Program, which aided him in focusing and directing his artistic career. While working with CARFAC, Wesaquate had the opportunity to bring spoken word poetry and storytelling to young men at the Prince Albert Correctional Institution.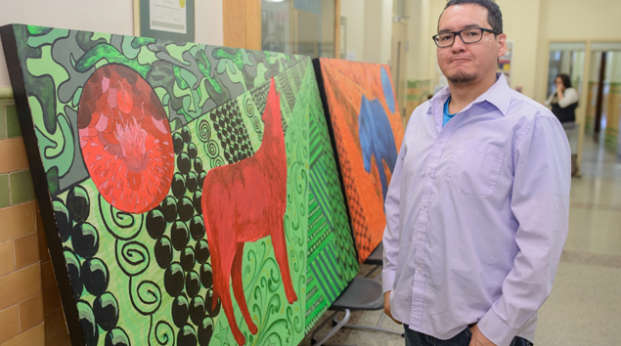 With the New Journeys logo, Wesaquate's main goal was to express his culture and give it a unique flair by incorporating his interests: "The star-blanket design came from my childhood memories as these blankets were given in honour amongst family and friends. The colours I chose are a reflection of our beautiful sunrises and sunsets here in Saskatchewan. To receive a star blanket is like receiving a buffalo robe—it is meant to share love and blessings in 'pimatisiwin' (good life). I could only hope the best for the youth and families of Turtle Island, which is why I came up with this particular design."
Wesaquate is honoured to share his creation on New Journeys.

New Journeys now has seven different themes that feature Indigenous artists and languages from across Canada. These themes aim to showcase and celebrate the diversity of Indigenous culture in this country. To explore the different themes, click the flower button at the top right of this page.