Get to know an Indigenous Youth Champion from the Kikinahk Friendship Center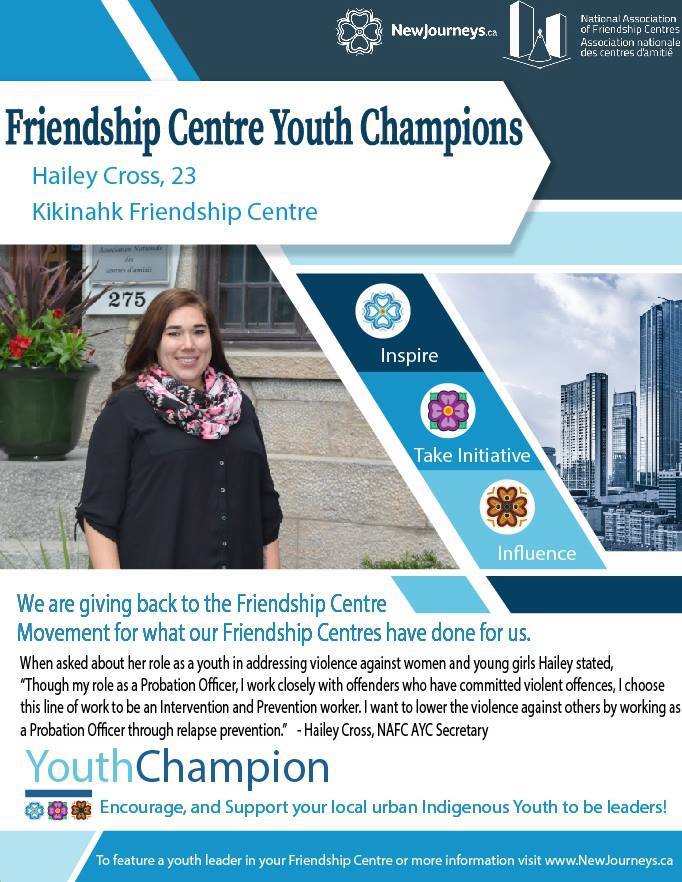 Hailey Cross - Kikinahk Friendship Center
Hailey is a 23-year-old Youth Champion from Kikinahk Friendship Centre in La Ronge, Saskatchewan. She exhibits strong leadership skills, volunteerism, and is a positive role model in her community! Hailey graduated with a degree in Sociology of Aboriginal Justice and Criminology in May 2018. She currently works as a Probation Officer and Community Youth Worker.
During her time off, she volunteers at the Friendship Centre as the Youth Representative and is working towards strengthening the Provincial Saskatchewan Indigenous Youth Council. Hailey advocates for youth and encourages them to get involved within the Friendship Center Movement across Canada. It is important to Hailey to remain active in her community and across the entire region of Saskatchewan. Not only does she engage in youth advocacy on a local, provincial, and national level but she also finds time to travel across northern Saskatchewan playing softball!
When asked about her role as a youth leader in addressing violence against Indigenous women and girls Hailey stated, "Through my role as a Probation Officer, I work closely with offenders who have committed violent offences, I choose this line of work to be an Intervention and Prevention worker. I want to lower the violence against others by working as a Probation Officer through relapse prevention."
If you know someone who is a Youth Champion or if you want us to highlight a Youth Champion from your Friendship Centre, send us an email!