Tracie Léost writes about her four day, 115 km run to raise awareness about missing and murdered Indigenous women and girls
When I was little my parents told me I could be anything, and I so I chose to do pretty much everything. I played almost every sport and always wanted to try new things. I laced up my skates and dancing shoes at age three. I played ice hockey, ringette, field hockey and baseball. I swam, played water polo, wrestled, played badminton, participated in track and field and ran half marathons. Somewhere in there I even found the time to take up traditional dancing, jigging and square dancing and traveled the country sharing my culture, and I also played the fiddle.
Above all I loved running and my blue Nike shoes were so precious to me. I absolutely loved running the hills, the feeling of my lungs gasping for air and having the capability of pushing my body to new limits. I felt so free.
I always dreamed of one day attending the North American Indigenous Games. The dream was to represent my home province of Manitoba on a national level. More importantly, I wanted to represent my community and make my people proud. That dream came true when I represented Manitoba at the 2014 North American Indigenous Games in Regina when I was 16. There really aren't enough words to describe how incredible my experience at NAIG was.
I ran incredibly, my best races to date. I medaled in three of my four races bringing home three bronze medals and ranked third across North America for female under 16 long distances runners. But it wasn't "winning" that stuck with me. In fact the fire burning inside of me didn't come from standing on the podium with my medal. It came from standing in a crowd of thousands of other Indigenous athletes from across North America all here to make their communities proud too. It was in that moment with my Métis flag swaying in the air that the fire inside me started burning, and I was inspired. I came home with a message: "We are the generation that will pick up the broken pieces, we, the youth, will make the changes our people need so it is time we come together."
If I were to make any kind of change these are the people I will affect, and these are the people that are going to support me. That is where the seed was planted, at the opening ceremonies of the 2014 North American Indigenous Games, and from there an idea had sprouted.
RUNNING TO MAKE A DIFFERENCE
A year later I laced up my running shoes in my kookum's front yard and began my very own MMIW Journey of Hope. I ran 115 kilometres in four days for missing and murdered Indigenous women and girls in Canada.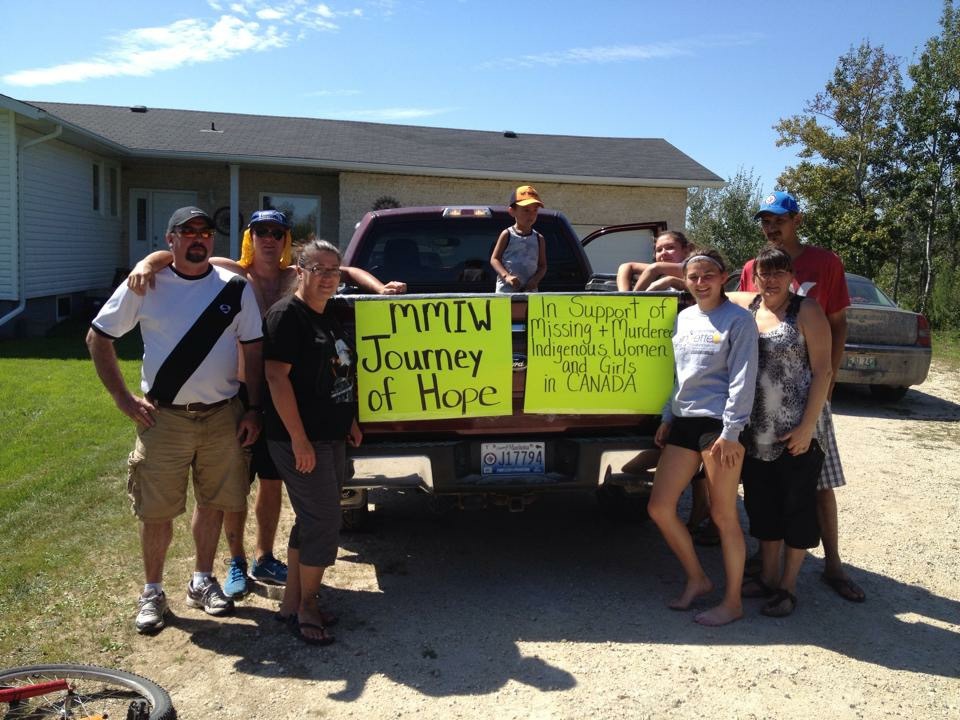 "YOU DID WHAT???" everyone said. Why would I do something so outrageous and drastic? Because I could no longer learn of another Indigenous woman going missing or being murdered. I was mortified that our prime minister at the time, Stephen Harper, said the issue of missing and murdered Indigenous women and girls in Canada wasn't important enough. Important enough? This is a NATIONAL crisis we're dealing with, a crisis that is directly affecting our people. You cannot tell me that isn't important. I needed to create awareness and raise money to help our people. So I put on my running shoes and did what I know best. I began my journey of hope at my grandparents' house in Oak Point, Manitoba and ran to the missing and murdered Indigenous women monument at the Forks in Winnipeg.
I can't sugar coat it. Running on a gravel shoulder down one of the most dangerous highways in Manitoba was by far the hardest thing I have ever done. It's not only physically exhausting running a full marathon every day while having an aching body, it takes a huge toll on you emotionally and mentally. It's incredibly hard to fight your mind when every step you take your mind is telling you to stop, that you can't do this, it hurts, you're tired, you won't finish this. It takes over you emotionally when you can no longer feel your toes, your feet are blistered and bleeding, your legs are aching, it's scorching hot and you're really, really tired.
Running 115 kilometres in four days was the greatest thing I've ever done, but it was also incredibly challenging. There were many struggles that came with it. When I announced my run to the world there was positive feedback and people wished me good luck, but no one reached out to help. There was little to no media attention and up until the day I started running there was almost no money raised. My peers told me I was nuts and the run would be impossible, that I couldn't do it. I had reached out to companies hoping they could donate some money to pay for gas for a safety car, water, medical supplies, food for along the way and poster paper to inform other drivers about what I was doing. Everyone declined. I paid for everything I would need myself.
It was social media that did the trick and got other media to pay attention. Radio stations were calling, news stations were interviewing me and the donations started spilling in. People across the province, across Canada and around the world were talking about the MMIW Journey of Hope. In four days we raised $6,101.01 for the Families First Foundation, a new non-profit organization that helps families affected by this crisis in any way it can.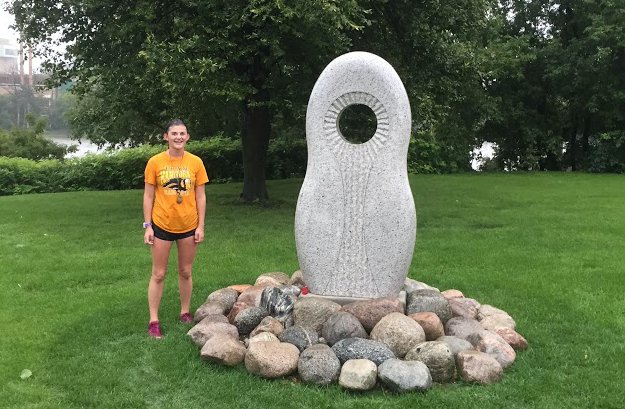 A LIFE CHANGING YEAR
The opportunities that have come for the Journey of Hope have been nothing less than incredible. I was a guest speaker alongside 2015 Mrs. Universe at a fundraiser for missing and murdered Indigenous women in B.C. and was a guest speaker and at national Indigenous assembly in Regina. This past summer I attended Girls20 Boot Camp for Brains, a week-long event where I learned a wide variety of skills with 20 other young female leaders. Over the summer I was also lucky to connect with an Australian producer working in Los Angeles who heard about the Journey of Hope and wanted to incorporate my story in a music video about women's rights.
It's incredible to think that all of this happened in one year. I am so grateful for the people who believed in me, who have taken the time to nominate me for dozens of awards so I could pay for university. Believe it or not I am right back where my seed was planted at the University of Regina in the faculty of social work.
I continuously get acknowledged for my efforts and courage to make a positive change and have my voice heard. The Journey of Hope was heard the exact way it needed to be, from coast to coast, throughout the entire country and beyond but I can't take credit for all of this. I have to thank my family for being so supportive, for pushing me to be the best I could possibly be and seeing something in me that I never saw in myself. Thank you to my brother and cousin Jeffery who biked behind me for all 115 kilometres and who reminded me every step of that way that I would never be in this alone. I couldn't have done it without either of them.
And lastly, for anyone who needs to hear it, shoot for galaxies. You can reach that far. Because two years ago I was standing in the crowd at the opening ceremonies of the North American Indigenous Games in my blue Nikes not knowing that this was going to be the moment that would change my entire life. We have the ability to change the world and it's time we do so. Why would you ever want to be ordinary when you could be extraordinary?
Tracie Léost is a Métis woman from Winnipeg. She started her first year at the University of Regina in September.