October is Mi'kmaq history month! Each year, events, community activities and showcases are held across Nova Scotia and the Maritimes to celebrate Mi'kmaq culture and heritage.
Mi'kmaq is spoken primarily in the Eastern provinces, Ontario and in some areas of Quebec, totalling over 8000 speakers. The language has influenced many geographical names of places in the Maritimes.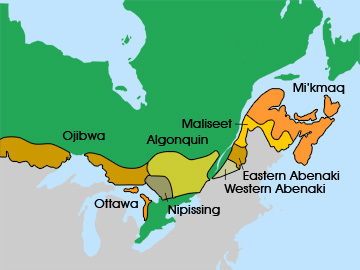 The following are some resources to help you learn the Mi'kmaq language or improve your skills:
#SpeakMikmaq: This hashtag started by Savvy Simon began as an opportunity for her to share words in her language. The movement has grown into a network of Mi'kmaq speakers working on their skills in modern ways. Check out the hashtag to find short video lessons, definitions and fellow Mi'kmaq.
Mi'kmaq Online: This resource is a living dictionary of spoken Mi'kmaq words. Each entry features audio recordings of at least three different people speaking the word so learners can pick up on pronunciation differences. The words are also used in sentences so you can learn the skill of distinguishing individual words within phrases.
Native Council of Nova Scotia: The NCNS has a language resource library, language workbooks and other learning materials. Contact them for more information about what they have available.
Jilaptoq: This site was created primarily for Mi'kmaq teachers to find resources to support their language teaching efforts. Jilaptoq amalgamates resources, stories, prayers, books and other learning resources in Mi'kmaq.
Atlantic Canada's First Nations Help Desk: This resource features Mi'kmaq speaking lessons with audio pronunciation guides, work sheets and a Mi'kmaq dictionary. Learn songs and prayers and access books and poster resources, all in Mi'kmaq.
Mi'gmaq Language Group: Learn Mi'qmaq Online hosts a whole bunch of beginner vocabulary lessons. Each lesson features advice and information about how the words fit into the language contextually. Complete the lessons in order to help you with the language structure and rhythm before moving on to words and phrases.
Learn Mi'kmaq in University:
Apps:
Other resources:
Do you know, or have you used, any other resources to learn Mi'kmaq? Let us know in the comments!