A Q&A with the Saskatchewan company's founder, Michael Langan
Michael Langan, who's from the Cote First Nation, started Colonialism Skateboards to try and turn the negative history of colonialism in Canada into an educational positive, helping others see the country's past for what it was and learn from our shared dark history.
Langan spoke to New Journeys about his company, its goals and how conversations about colonialism is shifting in Canada.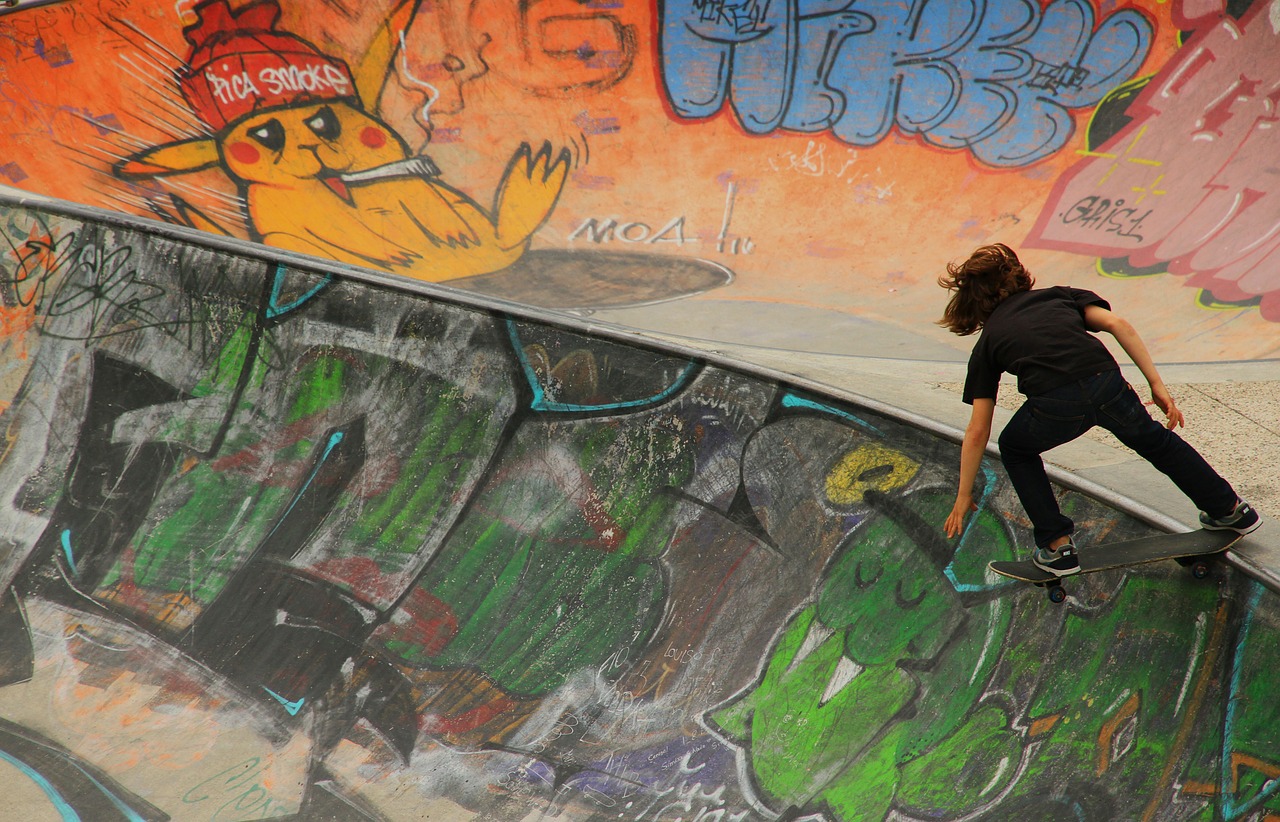 How did the company come to be? What was the inspiration to get started?
It all started with wanting to create a skateboard company, but I knew it had to have a meaning or purpose attached to it. I knew it had to have First Nations history and a historical context involved.
The inspiration started with educating myself at first. I started posting First Nations and Métis issues on Facebook and that only went so far. There's a huge misunderstanding and education crisis at the moment. Many Canadians don't know about our shared history in this country, and the Canadian government planned it this way. The education system has been controlled by the government for a long time and is still dictating what should and shouldn't be taught in our classrooms. It's great to see the TRC and its recommendations being adopted into universities and classrooms across the country. I'm very happy!
What did you hope to accomplish with the company?
Education is the company's main goal and always will be its main goal. It's very important our youth and folks understand the history of colonialism. Colonial policies and practices are still happening in Canada and around the globe. I hope that youth will start asking these questions surrounding colonialism in Canada. You know, like asking their friends, family or teachers about colonialism.
The skateboards are meant to get folks interested about our history and hopefully do their own research and continue these conversations. Every board comes with an educational pamphlet… that explains the image on the board and the history attached to it and that's where it's supposed to all begin.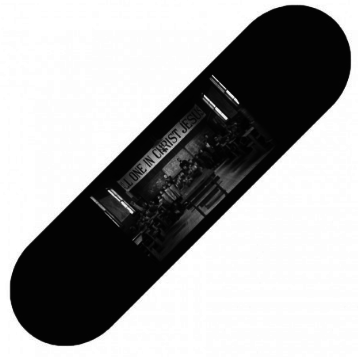 What has the response been like? Are you selling more than expected, and which skateboards are doing well?
The response has been a very positive one. I am humbled by all of the great feedback. I started the company with a vision, received my first batch of boards, sold a few and literally that day I was getting calls from the media. I didn't think I'd be on the front page of the Leader-Post newspaper and I sure didn't think I'd be talking with journalists from Vice and folks at CBC and CTV.
I have good friends working at Tiki Room Skateboards. It's a sk8shop in Pile of Bones, Regina, SK. They always tell me of people coming in and buying Colonialism boards and how happy they are about the company. I just sent a package out to Ninetimes skate shop in Saskatoon, SK. I received a message a few days later telling me they were sold out and wanted more product. There's kids buying them and bringing them to their schools and their teachers see the boards and are like, "whoa, what's this!?"
I've been doing talks with youth at high schools, elementary schools and colleges about Colonialism boards. Some of my skateboard friends didn't understand colonialism in Canada, and now they do. There are skateboarders with families buying these skateboards and they're educating their family on this history. There are skateboarders at skate parks or skate spots starting this conversation. This is the reconciliation process that is supposed to be happening. My plan is working. It's cool!
I'm almost sold out of my entire product. Colonialism skateboards is a small company and I have limited funds to contribute. I have lots of ideas and graphics I want to do but for now, it's just one graphic at a time. I will be bringing in new graphics and designs very soon. I think folks will be happy with the education and knowledge sharing coming out.
Are non-Indigenous skateboarders showing an interest?
Oh for sure, I think everyone's super happy with the company and its mission. This is all new news to some of them. Like I said, many non-Indigenous folks I knew didn't even know the word colonialism. It's cool to see a kid with my skateboard at a skate spot or skate park. It's raising that awareness.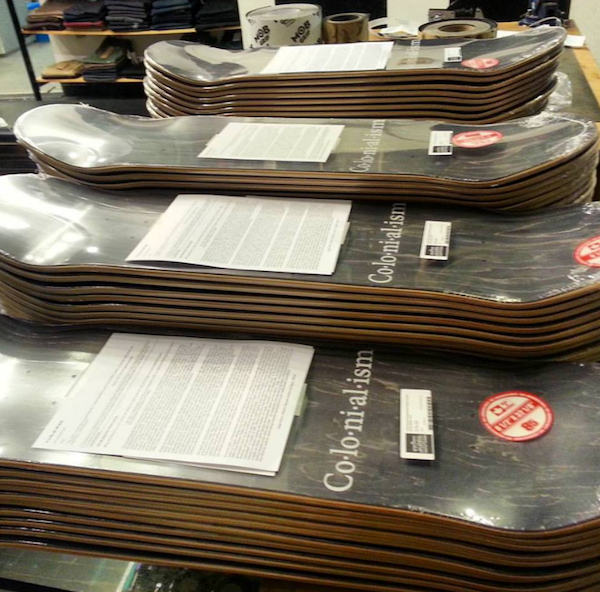 Do you see a shift in conversation–not specifically among Indigenous folks but perhaps in non-Indigenous communities across the country about colonialism and Canada's past? What does this shift look like?
There's definitely a positive shift in communities across the country. It's good timing with the release of the TRC report, there is an increased awareness about our colonial history, but we're just skimming the surface here. There's a lot of our shared history which hasn't even surfaced. This positive shift continues as skateboarders and folks who support the company start that important conversation about our country's past.
The conversation is happening everywhere. People are starting to talk, do their research and understand how important it is to know about these issues. It's a hard history to swallow and take in. I have a hard time reading up on this history. I can see this shift turning towards lot of guilt. Folks shouldn't feel guilty about our history. That's in the past, but we need to learn from it and understand its connections to what we are seeing today. See the truth and go through the reconciliation process.
First Nations communities are still suffering from what has happened in the past. As Canadians, we need to learn from it and help the reconciliation process for our future generations.