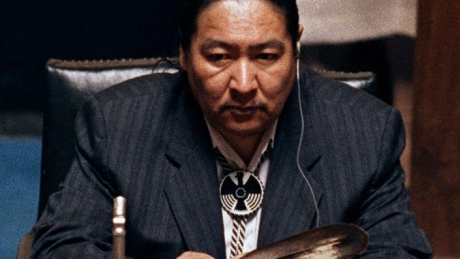 Elijah Harper was many things: a residential school survivor, a chief, a researcher and consultant—a politician, at times a controversial one—and a provincial cabinet minister. But what made him a national newsmaker in 1990 was a simple act of holding up an eagle feather in dissent of the Meech Lake Accord. On that day Harper changed Canadian history.
Harper was from Red Sucker Lake in Manitoba. He attended residential schools in Norway House, Brandon and Birtle, Manitoba and later studied at the University of Manitoba. He was elected chief of the Red Sucker Lake Indian Band at the age of 29. His provincial political career began in 1981 when he was elected to the Manitoba legislature representing the NDP.
Harper's political life had ups and downs—he lost a cabinet position after a drunk driving accident, but he was reappointed to cabinet a few months later—he also had financial and marriage troubles. But he turned things around when the Meech Lake Accord became a national issue.
The Meech Lake Accord was a series of amendments to the Canadian Constitution proposed by Prime Minister Brian Mulroney and negotiated between him and the 10 provincial premiers. The main goal of the amendments were to gain Quebec's consent of the Constitution; Quebec had rejected the Constitution Act of 1982, changes to the Constitution led by Prime Minister Pierre Trudeau, and was estranged from the Canadian "constitutional family." The Meech Lake Accord would recognize Quebec as a "distinct society" within Canada.
The Accord was initially supported by many Canadians, but over the course of a few years opposition grew and grew—particularly from federalists (the Accord would weaken federal powers) and Aboriginal groups.
To be ratified, the Accord needed support from the Canadian legislature and the legislatures of each province within three years. Harper initiated procedural delays in the Manitoba legislature on June 22, 1990—the last day the Accord could be ratified—and ran out the clock to have the Meech Lake Accord approved in all provinces.
"I was opposed to the Meech Lake Accord because we weren't included in the Constitution. We were to recognize Quebec as a distinct society, whereas we as Aboriginal people were completely left out," Harper said.
"We were the First Peoples here—First Nations of Canada—we were the ones that made treaties with the settlers that came from Europe," he added. "These settler people and their governments didn't recognize us as a Nation, as a government and that is why we opposed the Meech Lake Accord."
Photo courtesy of CBC