Young Indigenous leaders appeared before a Senate committee on National Aboriginal Day to discuss the incredible work they do
Who says Indigenous youth aren't kicking butt and taking names?
On National Aboriginal Day this year, 12 young leaders from across the country appeared before the Senate Committee on Aboriginal Peoples in Ottawa to discuss their own success stories. All 12 are movers and shakers in their communities, doing great work to improve the lives of Indigenous people and raise awareness and understanding about Indigenous cultures in Canada.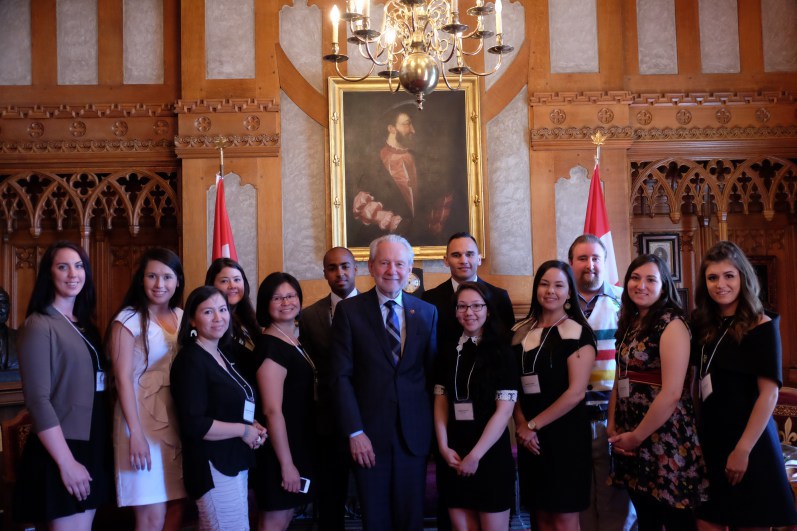 Indigenous youth with Government Leader in the Senate, Peter Harder. Photo source: www.sencaplus.ca
They're just an example of how Indigenous youth are making Canada a better place to live. Here are the youth who appeared before members of the Senate:
Caitlin Tolley, Algonquin Anishinaabe from Kitigan-Zibi, Quebec
Tenille McDougall, Tsuu T'ina Nation (Treaty Seven) from Fort Macleod, Alberta
Willie Sellars, Williams Lake Indian Band, British Columbia
Maatalii Okalik, Inuk from Panniqtuq (Pangnirtung), Nunavut, now lives in Iqaluit
Kluane Adamek, Kluane First Nation and of Tlingit, Southern Tutchone, German and Irish ancestry from Whitehorse, Yukon
Justin "Jah'kota" Holness, from Winnipeg, now lives in Ottawa
Kelly Duquette, from Atikokan, Ontario
Katelyn LaCroix, from Penetanguishene, Ontario
Jenna Burke, Mi'kmaw Nation from Charlottetown, Prince Edward Island
Mitch Case, First Degree Midewiwin (Three Fires Midewiwin Lodge) from Sault Ste. Marie, Ontario
Alethea Arnaquq-Baril, Inuk from Iqaluit, Nunavut
Shelby Angalik, Inuk from Arviat, Nunavut
The youth had inspiring things to say and took the opportunity help Senators gain a better understanding of the lives of young Indigenous people.
"I think you'll probably notice a theme in today's speakers. A lot of us didn't have an opportunity to learn about our cultures at birth. Some of us learned about it quite late," Katelyn Lacroix said when she spoke in front of the committee.
"I think one of the greatest dangers for our youth is a feeling of isolation, whether that be from their families, friends or communities," she added. "By learning about their history and engaging with their peers, we can help to foster a sense of pride and help ensure well‑being among our Aboriginal youth."
You can watch the whole committee meeting online here, but for a quick summary of the event with bios of every youth participant, check out this blog post on the Senate website.