The National Gallery of Canada launched the exhibition of Dene and Saulteaux artist Alex Janvier on November 25–marking only the fourth ever Indigenous artist to have a solo exhibition at the National Gallery, and one of only two of the Indian Group of Seven still alive.
Janvier, who comes from Cold Lake, Alberta, has spent his life painting brightly coloured masterpieces that combine Denesuline imagery with Western artistic techniques. His subject matter is heavily influenced by his experience at residential school, and by themes of colonialism that have had an impact on Indigenous people for generations.
At the opening of the exhibition, Janvier spoke about his experience at Blue Quills Indian Residential School, and how his two-hour weekly art class provided a refuge from the oppressive regime of the residential school. Though he lost friends throughout his years at Blue Quills, Janvier's own spirit survived, and he used his artistic skills to show the world evidence of Canada's darkest chapter.
As someone who was forced to speak a brand new language and abandon his traditional language at residential school, Janvier used his art as a way to communicate the ways of his people and to maintain his sense of cultural identity.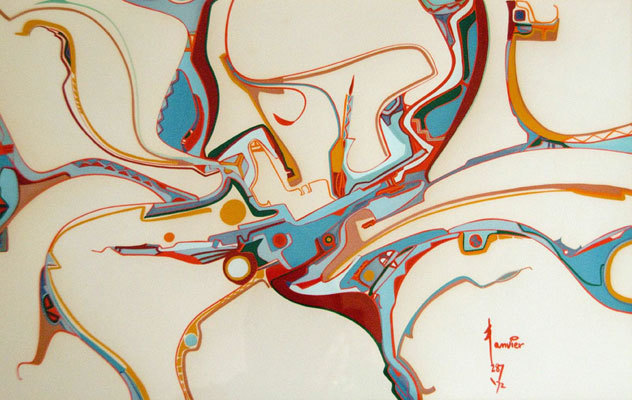 Janvier, who is now 81, said "what I love about art is it is who I am." After painting for almost his entire life, it would be impossible to separate Janvier's identity from his art. He also spoke about how painting is an opportunity for him to get back in touch with the little boy inside himself: "It feels like freedom."
In Janvier's art there is evidence of suppression, but also liberation from those barriers. Janvier continues to open doors for young Indigenous artists with his visibility, and by telling his stories as a Dene man with strong ties to the land. Janvier's accomplishments have also been recognized with the 2002 National Aboriginal Achievement Foundation Lifetime Achievement Award. He was also made a Member of the Order of Canada in 2007.
The exhibit at the National Gallery of Canada will display over 150 of Janvier's paintings for five months, until April 17, 2017.